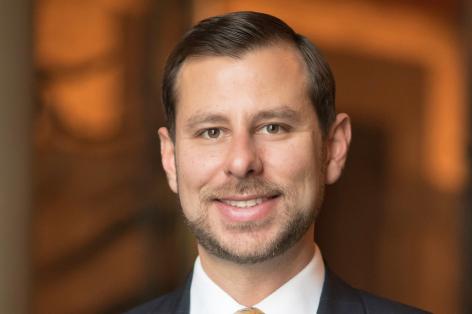 Joseph DeRosa joined BSJ in December 2014 as a member of the Albany-based lobbying team, focusing primarily on clean energy, transportation, telecommunications, technology, medical marijuana and procurement. In June 2016, he was recognized by City & State Magazine as an "Albany 40 Under 40 Rising Star" for his contribution in securing $1 million in State funding to support the development of hydrogen fueling stations for zero-emission, hydrogen fuel cell vehicles.
Prior to joining the firm, Joseph served over six years as lead Project Manager for residential financing at the New York State Energy Research and Development Authority (NYSERDA), focusing on market transformation initiatives in the energy efficiency and renewable energy industries. While at NYSERDA, he was responsible for the development, management and reporting functions associated with several financing products spanning the residential, multifamily and small business/not-for-profit sectors, including the Green Jobs-Green New York loan portfolio valued at over $70 million, and the Residential Loan Fund valued at over $100 million. Joseph also administered the only statewide On-Bill Recovery Financing program in the nation, as authorized by the Power NY Act of 2011, which was recognized as an "exemplary program" by the American Council for an Energy-Efficient Economy.
In addition, Joseph co-managed a $40 million grant with the U.S. Department of Energy, which created "The NYS Partnership for Innovative Financing of Energy Efficiency Retrofits," and includes the City of New York (NYCEEC), the Community Development Corporation of Long Island (CDCLI), the Town of Bedford/Northern Westchester Energy Action Consortium (NWEAC), and the investor-owned utilities. Joseph also provided support for NYSERDA's historic $24.3 million AAA/Aaa-rated Bond Issuance to fund additional energy efficiency projects, a transaction recognized as the Bond Buyer's 2013 "Deal of the Year for Small Issuer Financing."
Joseph holds a Bachelor's Degree in Public Affairs with a concentration in Management from Indiana University's School of Public and Environmental Affairs. A native Upstate New Yorker, he was born in Rochester, raised in the Capital Region, and graduated from The Albany Academy. He currently serves as Treasurer of the board for the Albany Academy Alumni Association.