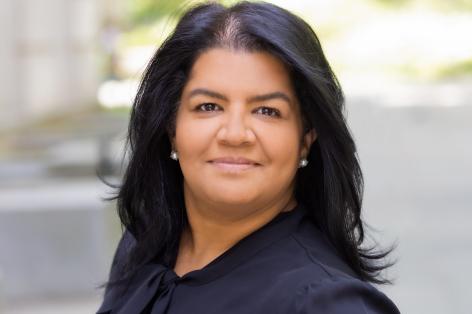 Prisca Salazar-Rodriguez is a partner at Bolton-St. Johns. Prisca represents clients across multiple sectors on issues of economic development, procurement, service industries, land use, emerging markets, workforce development and community engagement. She is a respected advocate who employs multiple methods and strategies to successfully secure results behalf of her clients that also benefit New York.
Prisca has nearly 30 years of experience as a leader in government and on behalf of companies and organizations across New York and nationally. Before joining Bolton-St. Johns, she was the Director of the New York office of Hilltop Public Solutions, a national full-service public affairs firm with offices across the United States. Previously, Prisca served as the Director of Executive Operations and Scheduling for the Mayor of the City of New York. She began her career in government and politics in the Office of the Bronx Borough President where she served 3 borough presidents during her 22-year tenure in the office. Prisca worked her way up from a summer intern to Deputy Chief of Staff to Bronx Borough President Ruben Diaz, Jr. Prisca also served as the Director of Operations and Scheduling at Empire State Development Corporation under then Chairman Pat Foye.
As a seasoned public servant who has held increasingly responsible positions at all levels of government for over two decades, Prisca has the relationships across New York and the credibility as someone that knows the process of government decision making to be one of the firm's most effective advocates. She has developed management skills that translate into solid effective strategies that advance the needs of an industry, as well as a community for successful public policy outcomes.
Prisca is renowned for her common sense , practical style that makes her a sought after professional in crisis and reputation risk management situations. Her cool under fire demeanor and management skills, has been honed on several national and local political campaigns from First Lady Hillary Rodham Clintons campaign for United States Senate to recently Ray McGuire's campaign for New York City Mayor.
Prisca's services are highly sought after and she continues to serve communities across the City. She is a member of the Board of Trustees of Odyssey House and the Board of Trustees of the Earl Monroe New Renaissance Basketball Charter School. Prisca is on the Board of Directors of SoBro, the leading economic development non-profit in the South Bronx.
Prisca has been recognized by City and State New York as one of the New York's Top 50 Political Consultants (2019); as one of the Latino 100 Power Diversity (2021); and as one of the Responsible 100 New Yorkers (2021).
Prisca is a native New Yorker, born in the Bronx, the borough where she currently resides with her husband, Jose Rodriquez, and sons Javier and Jose Andres.